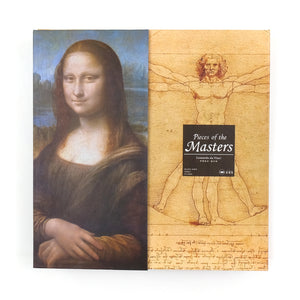 Hellofish
Pieces Of Masters - Da Vinci
Sale price Price $139.00 Regular price Unit price / per
Your journey begins in the Renaissance era with the Italian artist, architect, anatomist, engineer, mathematician and inventor…Leonardo da Vinci.
Da Vinci's artwork combines scientific knowledge and anatomy with artistic creativity. He was obsessed with birds and the science of flight and he built several flying machines throughout his lifetime. 
In this collection, we showcase two of Da Vinci's most famous works of art - the Mona Lisa and the Vetruvian Man. 
Great art is everlasting, speaking to us from across centuries. It can give us a glimpse into the history of humanity and allow us to see the world through a different lens.  
From the makers of Pieces of the Galaxy and Pieces of Seasons, HelloFish takes you on another fascinating puzzle journey…this time through the history of art!
Pieces of the Masters is a celebration of the worlds most famous artwork from the Renaissance to the 20th century.
On this journey you will learn about historically significant fine art as you construct masterpieces by the worlds most accomplished artists. 
As you build your masterpiece, you will uncover unique themed pieces that represent characteristics of the artist, their life, and their work.
In this collection, no two pieces are alike and each piece will take you further on a journey of discovery.