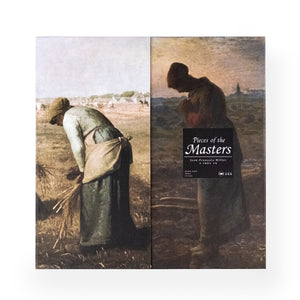 Hellofish
Pieces Of Masters - Millet
Sale price Price $159.00 Regular price Unit price / per
Jean-François Millet
(1814-1875)
Jean-François Millet, a French realism artist and one of the founders of the
Barbizon school in rural France. Millet is renowned for his paintings of peasant
subjects and can be categorized as part of the Realism art movement. Millet's works
depict the thoughts of ordinary people in that age, he is a painter full of humanity.
Born in a farmer family, he depicts the farmer's pastoral life throughout his life,
with cordial and touching brushwork. He is the most beloved painter by the people in
the history of modern French painting. His simple and friendly language of art is
especially loved by French farmers. His representative works include "The Gleaners",
"The Angelus", "The Sower".

Great art is everlasting, speaking to us from across centuries. It can give us a glimpse into the history of humanity and allow us to see the world through a different lens.  
From the makers of Pieces of the Galaxy and Pieces of Seasons, HelloFish takes you on another fascinating puzzle journey…this time through the history of art!
Pieces of the Masters is a celebration of the worlds most famous artwork from the Renaissance to the 20th century.
On this journey you will learn about historically significant fine art as you construct masterpieces by the worlds most accomplished artists. 
As you build your masterpiece, you will uncover unique themed pieces that represent characteristics of the artist, their life, and their work.
In this collection, no two pieces are alike and each piece will take you further on a journey of discovery.